THE DESIGNER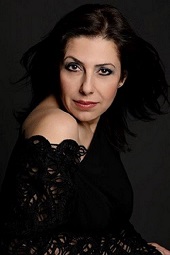 Stalo Theodorou launched her signature label in 1991. She is self taught with basic studies in fashion design and she started designing clothes on a personal passion to create utterly beautiful clothes that woman love to wear.

Over the last decade and a half she has developed an international reputation for luxurious, elegant bridal and evening wear which make the woman wearing them feel confident and always perfectly dressed.

Stalo's signatures are the attention to detail, use of ultimate in fabrics and perfection to cut. Her fabulous unconventional designs, with a style which is recognized at first sight, enchant and convey into others dimensions where <<fashion becomes art>>. Her favourite material is lace. She loves collecting it as well as using it for all her designs. She believes that this is the only fabric that has a sensitivity of its own being at the same time powerful and yet so fragile and romantic.

Stalo is woman of passion and the Latin style is very apparent in her work. She is a free spirit and she likes to travel around the world in search of different cultures and new inspirations.


COMPANY PROFILE
With a history of more than 15 years Complice- Stalo Theodorou was established in 1991 bu the Cypriot designer Stalo Theodorou. Her couture evening and wedding dresses made from the highest quality European fabrics such as silk, taffeta, organza and lace and her passion for innovative and uncompromising design soon leads her to rank among the first top Fashion Designers in Cyprus
In 1993 Stalo opens her own showroom in Mnasiadou, one of the most exquisite and fashionable streets in Nicosia. Three years later, in 1996, she is entrusted to dress the contestants for the annual Cyprus Beauty Contest. The following year she dresses Star Cyprus 1997 for her participation at Miss Universe Competition in Hawaii and she gets best grading for the appearance in Complice evening gowns.
In 2000 'Miss Universe Competition' take place in Cyprus and she is selected among other designers to present with her collection the Cypriot Fashion Abroad. In 2002 Star Cyprus finishes 6th at Miss Universe Competition in Puerto Rico wearing a 'Complice Couture' evening gown, especially designed to her. During the same year the designer was chosen to launch the Fashion Target Breast Cancer Campaign in Cyprus, together with two other Cypriot Designers.
Since 2002, Theodorou's reputation grew internationally after participating at key fashion exhibitions, including Sposa Italia in Milan, Novia Espana in Barcelona, Modatex –Essen, the British Bridal Exhibition in Harrogate and the Athens Bridal Exhibition.
Complice – Stalo Theodorou now sells evening and bridal creations to retailers across Europe, the Middle East, Russia, the United States and Australia.
Each Complice creation is a unique design and is cut and made separately while special attention is given to hand beading and finishing details by skilful workers. All styles can be made to measure and adjusted specifically and precisely. It is therefore no wonder that Complice designs are trend setters and developed an international appeal.